We offer a wide range of sewer and drain services and will arrive at your home or business with the tools and experience to handle almost any sewer, drain or plumbing project or repair.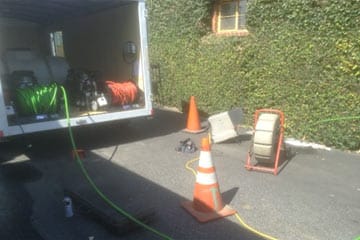 Sewer and Drain Installations and Repairs
Residential and Commercial
Drain Cleaning Service
High Pressure Sewer Drain Cleaning
Hydro Jetting
When it comes to sewer drain cleaning, nothing can match the cleaning power of a hydro jetter. This high pressure drain cleaning machine can use over 1500 PSI and push out 12 GPM.
This equipment needs to be handled by a professional. With some commercial and industrial jetters reaching over 4000 PSI it can be down right deadly if not used properly, so before you go and try to rent this equipment yourself, think twice and call us.
From smaller 1 to 4 inch pipes to outside residential and commercial pipes up to 4-6 inches and even up to 24 inch industrial sewer drains, out hydro jetting equipment will get your lines cleared and in good working order.
After the lines are cleaned out, we can use a sewer camera to show the benefits of hydro jetting. Hydro jetting the lines can do a more complete job than other types of sewer drain cleaning helping you avoid having to call again anytime soon.