Sometimes trenchless sewer repair is the solution to your damaged plumbing system, pipes or tree root problem.
We take the extra time, put in the extra effort and are dedicated to the Trenchless Pipe Replacement process from start to finish.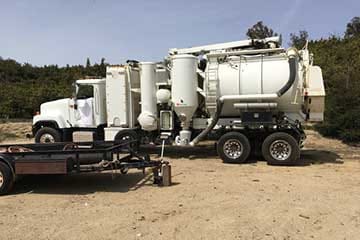 Providing less damage to your Los Angeles home, lawn and garden with our Los Angeles Trenchless Sewer Replacement services, we're not finished until the job site is just as clean or cleaner than when we got there.
Sewer line repairs/replacements as described by the Uniform Plumbing Code UPC & the Greenbook of Public Works Construction.
In this description we will talk of the "sewer lateral line" along with the approximate cost of replacement & the different techniques to fix these.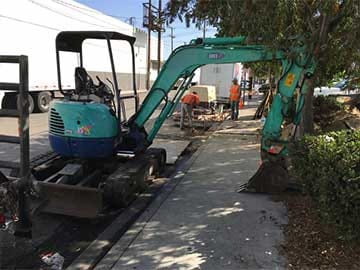 This sewer lateral line is the portion of the sewer system that runs from the "property line out" to the city main sewer line.
Most of the sewer lateral lines here in Los Angeles county are made from V.C.P. Victaulic Clay Pipe. This clay pipe material is engineered to have a life span of 50 years.
Many of the lines in the city are much older than this. We see substantial issues of sewage backing up into people's homes, bathtubs, the bottom of showers etc. around the 75 year mark.
Sooner with earthquakes, hillside homes, ficus tree roots. If this is happening in your home remember to clean the unseen germs with a Clorox bleach solution of 40% bleach & 60% water.
These issues are normally with the cement mortar joints that break down. The heat in the sewage creates steam which travel up through the failing mortar joints drawing the tree roots to your sewer pipe.
Once the roots start growing inside the sewer pipe you can guarantee the roots are starting to grow around the host pipe eventually crushing & breaking the clay line causing the sewage to back up inside the homes system.
The upgrades, repairs, replacements to the sewer lateral lines are a multi billion dollar industry